Blog
Fabrikant*innen vorgestellt: Phil Lyness
Fabrikant*innen vorgestellt: Phil Lyness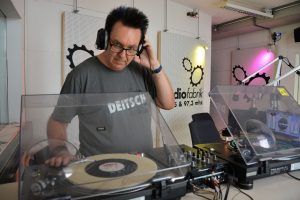 An englishman in Salzburg
Well, well, who's 'avin a gander at us here? It's Phil Lyness, perhaps the most active english radio host around town!
Despite having only joined us 3 and a half years ago, he's already stocked up to producing three different shows. He started his musical journey with Northern Soul Nite, exposing us to northern England's Underground Sound at a moderately underground air time, late at night.
Having sent twenty episodes of Soul into the ether, Phil finally went after his itch to present more of his precious record collection. With a metal box full of 90s Punk and a secret vault of (nearly) unheard old & new Alternative he set out to cement his position on air.
Here's when you can catch a show (for rerun dates, click the links):
Northern Soul Nite, every 3rd Wednesday starting 9 pm;
Punk In A Box, every 2nd & 4th Wednesday at 3pm; as well as
Teenage Kicks, every 1st and 3rd Wednesday at 4pm.
---
Mitmachen
Du hast auch Lust im Studio Platz zu nehmen und hörbar zu machen, was alle hören sollen? Eine spannende Sendungsidee? Ein gesellschaftliches Anliegen? Eine geniale Musiksammlung? Oder einfach nur Interesse am Radiomachen?
Dann schau doch einfach bei uns vorbei (1. Stock, ARGEkultur) oder schick ein Mail an programm@radiofabrik.at und bald bist auch du gut zu hören!