Blog
Browsing around the clove: Episode I "Vanilla"
Browsing around the clove: Episode I "Vanilla"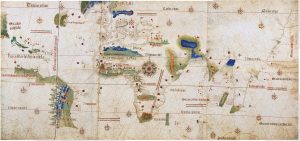 Sonntag, 10. Februar 2019 ab 16 Uhr:
"Im Anfang war das Gewürz", In the beginning was the spice, that's how the author Stefan Zweig starts his book called Magellan.
Spices, these tiny ingredients revolutionized the way we eat, and they are present in many of our favorite dishes. But not only spices. Italian tomatoes, Valencia oranges, Swiss Chocolate and potatoes for everyone… All these products have something in common. Yes, you can find them at your nearest supermarket but none of them are native to those lands.
Columbus didn't discover the New World, but indeed in that moment, in terms of biology, the world changed. And at that moment, many things were happening. This journey wants to find out how spices shaped and modified the course of history for ever. And with this first episode called "Vanilla" we will see how it worked.
Browsing around the clove a show produced by David Córdoba Bou